Paul Munro, Massage Therapist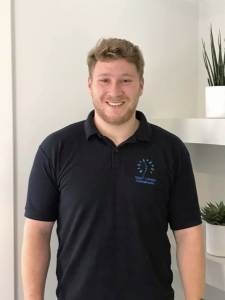 Early insight
I had my first Sports Massage at 17 after suffering from excruciating back pain whilst playing football. Within 2 months I was completely injury free and this is where my interest started for massage therapy. After qualifying as a personal trainer, I decided to attend Napier university where I studied Sport and Exercise Science. During this time, I gained my level 3 Sport Massage qualification, and I haven't looked back since. I thoroughly enjoy meeting new people and getting to know them whilst assisting them back to full health and well-being.
Master of Technique
I have an interest in injury prevention and recovery through massage techniques such as soft tissue, deep tissue, STR, tapotement and frictions.
Outside of the practice I love to go exploring and wild camping around Scotland with my Spaniel Jess. I'm also in the process of getting my motorcycle licence and I can't wait to get out on the open roads.
Call Now
Contact our friendly team today to schedule your first appointment! Same-day visits are available.


Paul Munro, Massage Therapist | 01506 674706