Kim Cox, Massage Therapist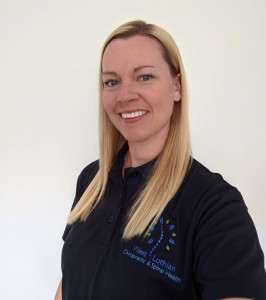 Natural Progression
In 2006 Kim qualified with a BSC degree in sports coaching. After gaining her degree, Kim worked as a specialist sports coach with elite gymnasts from Scotland. She coached at competitions across Europe and attended training camps with her gymnasts who were part of the Scotland Squad most weekends. She worked with some of the top coaches in Britain and enjoyed attending a training camp at the Olympic reserve School in Russia.
Putting it all together
Throughout her coaching career, Kim observed the benefits of Massage/Functional Cupping and Taping. This is what sparked her interest in gaining these qualifications for a new career which she can work around her children as well. Kim has seen first hand the difference regular massage treatments can have on a clients wellbeing. She has been told so many times "why did I not start this sooner, I feel as light as a feather".
Benefits of Cupping
The benefits of Functional Cupping Therapy include local pain relief and muscle relaxation. Cupping improves overall health by removing blockages and increasing blood flow through the sight of pain, therefore increasing recovery time. Benefits also include
Helping with fibromyalgia
Relieving migraine symptoms
Treating chronic neck pain
Reducing cellulite
Improving blood flow
Benefits of Kinesiology Taping
Kinesiology tape helps allow the free flow of blood and lymphatic fluid to cleanse and heal the inflammation without the use of medication or surgery. This special tape helps to improve circulation, support muscles, allow the internal injury to heal and help prevent further muscle injury while still allowing motion.
Reduces Pain
Reduces Swelling
Reduces Scar tissue
Reduces Muscular activity/li>
Improves Healing
Improves Posture
Improves Nerve receptors
Improves Musle contraction
Benefits of Indian Head Massage
It may sound like a spa treatment for a special occasion, but Indian Head Massage has many health benefits both physically and emotionally. The aim of Indian Head Massage is to release tension in the muscles and joints of the face, head, neck and shoulders. Benefits of an Indian Massage can include:
insomnia
headaches
sinusitis
relieving fatigue
Increased energy
increased energy
Kim is a mum of 3 energetic boys, her eldest, age 6, is enjoying Primary 1 and loves drawing. Her identical twin boys, age 4, will start Primary 1 in August and really enjoy Tae kwon do. In her spare time, Kim likes to spend time with family and friends, going walks and enjoying a nice meal.
Call Now
Contact our friendly team today to schedule your first appointment! Same-day visits are available.


Kim Cox, Massage Therapist | 01506 674706